Publications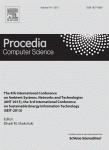 Procedia Computer Science Journal
The final version of conference proceedings is now available online!
All accepted papers after strict peer-reviewing process will be included in the main conference proceedings by 
Procedia Computer Science(Elsevier)
, which will be submitted for indexing, such as CPCI-S,EI.
Procedia Computer Sciences is hosted on 
www.Elsevier.com
 and on the content platform (
ScienceDirect
), and will be freely available worldwide. 
All papers in Procedia will also be indexed
by Thomson Reuters 
Conference Proceedings Citation Index
(former ISI Proceedings) - an integrated index within 
Web of Science
, the world's most trusted citation index covering the leading scholarly literature.

Furthermore, extended version of some selected high-quality papers will be invited to be published in the special issues of the international journals: International Journal of Information Technology and Decision Making (2010 SCI Impact Factor:  3.139), Annals of Data Science, International Journal of Computational Science,  International Journal of Intelligent Engineering Informatics and Journal of Global Optimization (2012 Impact Factor:  1.307). 

Papers of ITQM 2013 can be found here.